This is number 36 in my occasional series of 12″ records from the 80s that had an effect on my life.
Originally released their debut single in the UK in 1982. The song was included on the group's first album, "Fantastic," and it marked the beginning of their rise to fame. 
Wham Rap! was a unique blend of pop, funk, and hip-hop, and it showcased George Michael's skills as a songwriter and performer. The song's lyrics dealt with themes of youth culture, social commentary, and the challenges of growing up in the inner city. The song was well received by audiences and critics, and it established Wham! as a fresh and innovative force in the pop music world.
Originally reaching getting nowhere on initial release, it was only after the bands second single Young Guns was a hit it was re-released and climbed to number 8 in the UK, then it helped to lay the foundation for the group's future success. It remains an important part of Wham!'s legacy, and is considered a classic of 80s pop music.
My personal favourite mix is the "Final" '86 version that featured on the Import only version of the bands last single release, known in Japan as "Music from the Edge of Heaven". It is a re-edit, with extra beats of the original "Unsocial" mix that appeared on the original UK 12″.
Top 50 12 Inches of the 80s
What's it all about?
Inspired by all the lists you see on FaceBook saying "Post your favourite albums, but don't say anything about them…" I thought, hell I'm gonna say a bit about them and why they're special. As a general rule I have chosen particular extended vinyl versions of the tracks for various reasons, amongst them they extend the length I can listen to them, and they often add extra ambience to the Radio Friendly 7″ version.
Services
What 1pCD can offer

Legendary US record producer Tom Moulton was probably one of the prime movers in developing 12-inch releases, he had discovered that the 12-inch had vastly superior sound quality, producing grooves perfect for the discotheque. It was music for hedonistic dancers – for metronomic beats, fewer vocals, stripped back instrumentation, slow-fading echo effects, sustains, slow builds in pace and intensity to maximum peaks.
Related posts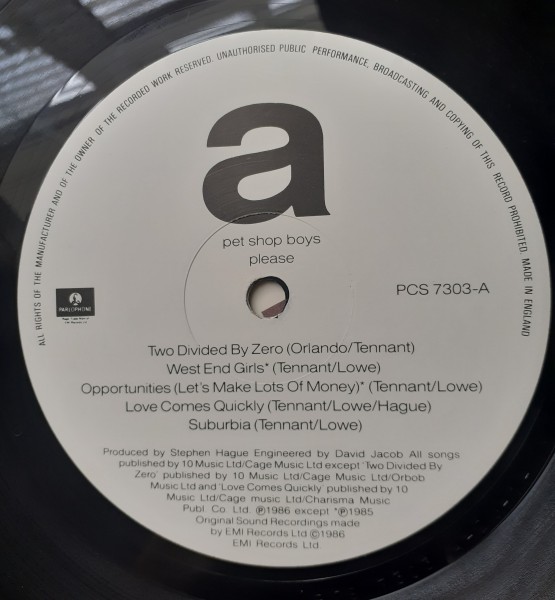 For all you PSB Audiophiles out there, the 'Boys have released an…